Recording
The book collection was equipped and with maximum operator comfort. Reservations are first recorded as a reservation in advance, they can also mutate (open) or delete (delete) are. The side view and print is always based on the current filter and sort settings. Here the symbols (if you hover your mouse over the icons will also appear the name):

From left to right
1. Open
2. Delete
3. Options
4. Exchange
5. Copy and exchange
6. Copy Booking Record
7. Save as Booking templates
8. Filter mutate
9. Sorting mutate
10.Show All Records
11.Import Data
12.Import Excel
13.Transient Booking
14.Refresh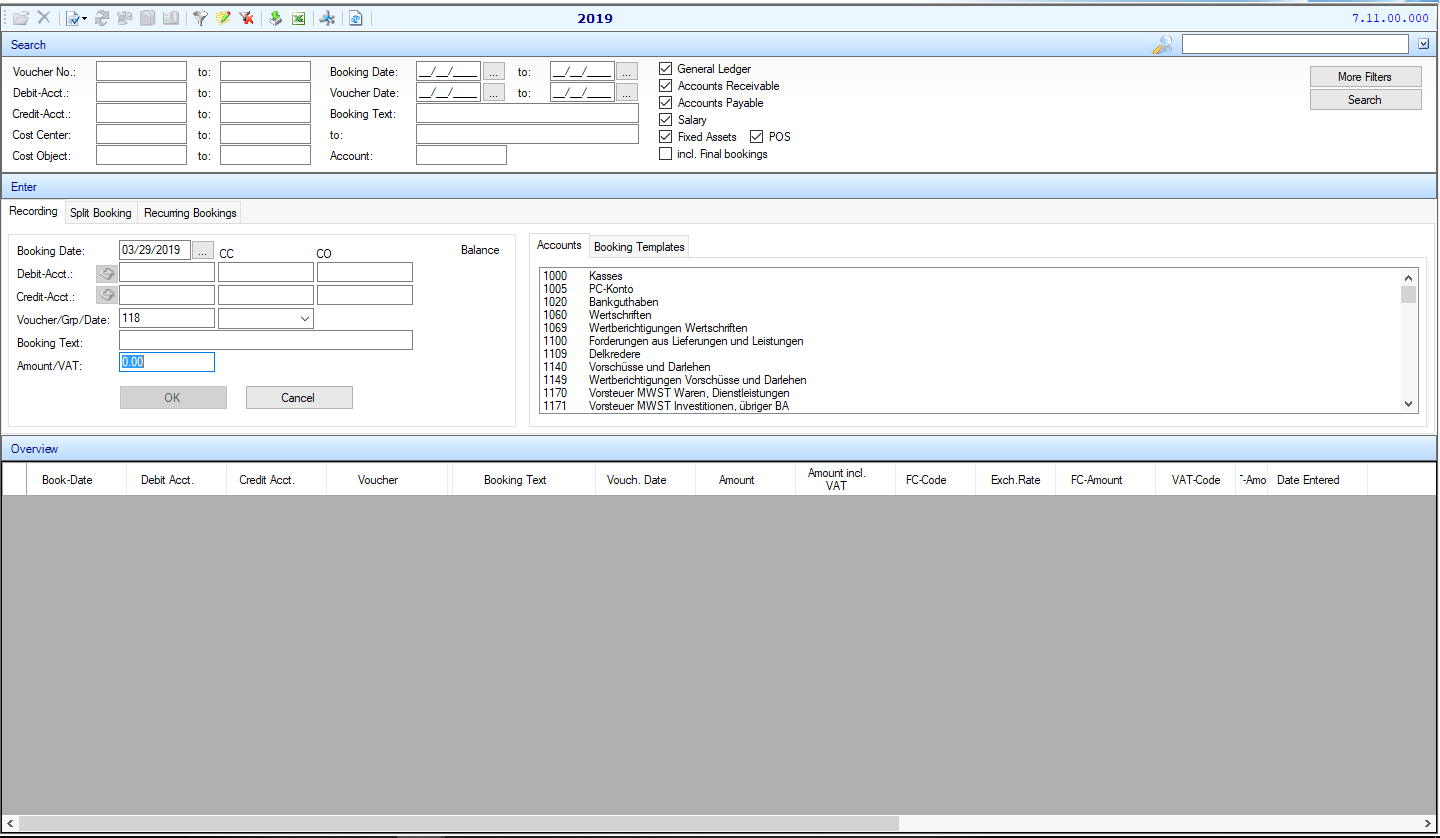 Search:
At the top you will see the search mask, which you can search already completed bookings.Enter information to filter those and press "Search".
Capture:
In the middle section, you enter new Bookings. In first tab are regular individual bookings recorded in the second tab to group bookings. In the third tab you can enter recurring entries or query.
On the right you can see the chart of accounts with all available accounts and the 2nd Tab the posting templates, if in the master data that have been collected.
Booking date:
Date by which the bookings are entered (value date)
Account should be:
Debit account. Enter the account number or the first number. In the right window will appear automatically the possible accounts. Double click the mouse to select the desired account.
Credit account:
See Account Debit
Slip / Grp / Date:
As document number automatically Continuous is proposed, but can be manually overridden.
You can divide your bookings in groups (shaded in table). This table appears in the look-up, if you have entered booking groups.
Date of the original receipt. May, but need not be identical to the booking date. Is purely for information and has no effect on any analysis. This can also be turned off using the Options in Tools, so that only one is active posting date.
Text book:
Enter either an individual text, or select one of your standard booking text in the right window by double-clicking.
Amount / VAT:
Enter the amount, if the "Automatic VAT accounting" is enabled (under Options) and the debit or credit account is associated with a VAT code, VAT bookings can be made and the VAT is proposed.
VAT-Code:
The standard VAT code (eg 16 for the account 3001) can also be overwritten.
VAT Amount:
Is calculated based on the amount and the VAT code, but can be overwritten.
Survey:
Already shows recorded bookings. These can be sorted by clicking on the title.